Case Study
COLLEGE BOARD: AP 
The AP web experience was fractured.
Since 2002, the domains governed by the AP program had grown to over 22 disparate sites and a whopping  35K+ URLs.
Content findability and discovery had become problematic.. This led educators to believe the AP Program did not support them.
The websites were non-responsive with a large portion of content published as .PDFs, making for a very cumbersome mobile experience
The  website ecosystem used  10 different CMS platforms,  each with its own set of features and (dated) capabilities. Many of the older platforms required additional HTML programming and CSS updates to meet current web standards.
Without consistent publishing capabilities and a centralized content depository, content governance had become harder to manage
But wait. There's more.
New digital plans were announced for the AP Program in 2016. The College Board was developing a new cloud-based education management platform to be integrated into the AP website and two new courses will be introduced to the existing catalogue of 38.  In short, the College Board was at a critical juncture. There was a massive amount of stress on AP's web presence, 
its most critical communication and support mechanism.
Internal Team & Departments
Brand Experience

Editorial Department

Marketing Research

AP Subject Matter Experts

AP Executive Team
Categories
Content Audit
UX/UI

Content Strategy

Branding

Team Management
BEFORE WE MOVE INTO THE APPROACH, CLICK ON THE ASSETS BELOW TO SEE
THE NEW BRANDING AND STRUCTURED CONTENT MODEL. 
Consolidating over 35,000 URLs was quite a massive project. During the discovery phase, we established a three-pronged plan of attack: (1) identify the essential content needed to create an effective, scalable content organization schema (2) provide editorial recommendations for content that needed to be synthesized, edited, or removed and (3) test and launch a new AP experience with a completely rebranded design, intuitive information architecture and friendlier user interface.
ACCOLADES
"Larry was a vital player in the transformation of dozens of College Board AP websites… he led the synthesis of 22 different AP Program-related sites into a single experience." – S. Landers, Executive DIrector. Brand Experience. "I can highly recommend Larry Burnett for any editorial and content strategy projects. He worked with me for over two years, where he managed a team who  significantly rewrote content to implement our new brand voice across the entire site. Larry is smart, funny, and totally professional." – K. Fay, Editorial Director. College Board
1. Content Audit
My team analyzed content for usefulness, quality, duplication and accessibility and applied a sliding rating scale to each. At the same time, editorial recommendations were included for content that could be useful, but needed shaping or a new direction.
2. Editorial Strategy
In order to publish a single site for multiple audiences (teachers, administrators, councelors, professors, AP coordinators, etc.) we had to create a new brand voice, synthesize duplicative content, and rewrite using economical language for mobile users as well as apply the editorial notes from the audit.
3. UX/UI Research
The content audit revealed new classifications (Exam admin, Course materials, Higher Ed, Calendar, etc.) resulting in a new taxonomy that informed both IA and UX. Testing was conducted online with a sampling of all audience types, resulting in multiple revisions to get to the final User Interface.
4. Team Management
The project was truly cross-matrixed and had to meet the expectations of more than 75 different stakeholders, including the AP program heads, Subject Matter Experts for all 38 courses, the Brand Experience department, the Editorial department and finally the College Board Executive Team.
Ineffective and duplicative content was pruned.

Result: URLS were reduced by 40%.

The end-user interface was improved by consolidating content and rewriting in a voice that worked for all audiences.

Result: one rebranded and redesigned universal AP experience.

New interactive tools, new information architecture, intuitive sectional labels, and indexed resources were tested and introduced.  . Seasonal content corresponding to the school year was auto-published through a new Calendar function. 

Result: Increased findability and user-friendly interface.

Best of all, to increase publishing efficiency and reliability, a new Drupal CMS was implemented which incorporated the taxonomy and content types discovered in the content audit.

Result: Increased efficiency on the AP content team with everything now using one state of the art CMS.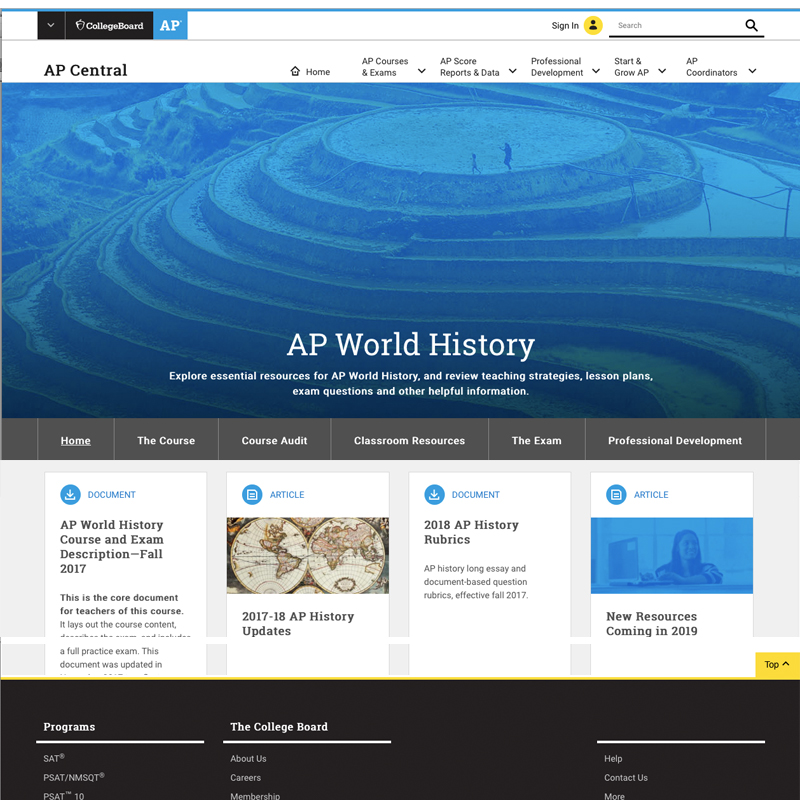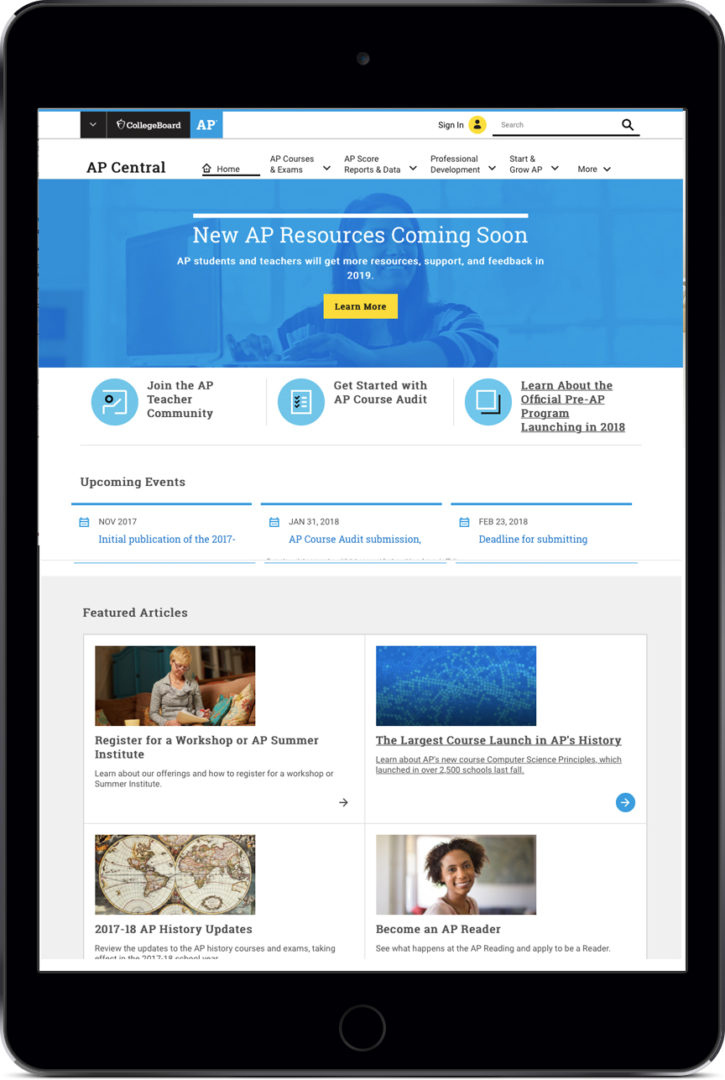 Let's Start Something Big
Say Hello!
Please fill out the following form indicating what industry you're in and what type of project you're inquiring about. We'll be sure to get back to you within a day.