MULTI-DISCIPLINED DIGITAL PRO
Hundreds of digital trends and development tools come and go each year. The difference is having the experience to know which of these will be  beneficial to a business, which ones are just hype, and which will become the new standard.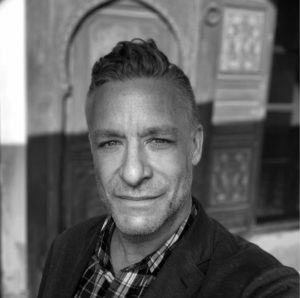 Larry Burnett is a seasoned creative marketing and content strategist with over 15 years experience. Larry was a senior creative at HBO for 7 years where he worked on the creative strategy for digital marketing, content partnerships and affiliate campaigns. Larry's grasp of the new media world also made him integral in launching many of HBO's new products, including HBO Latino, HBO GO, HBO Mobile, HBO On Demand and HBO HD.
Larry started his career working at  ad agencies in the late 90s, specializing in building music sites for such clients as CMT and New Line Cinema. He became the manager of AOL Music and helped strategize AOL's entry into the burgeoning digital music space, helping to build the brand from the ground up.
He has been consulting recently for a wide range of clients. Among his recent accomplishments include rebooting the entire Advanced Placement web ecosystem for the College Board and rebranding Verizon's website and online ordering system for its $5.3 Billion divestiture to Frontier Communications. He also has built a number of e-commerce shopping experiences for young startups and manufacturers using Magento.
Larry is recipient of many industry awards from Promax/BDA, CTAM, Webby and Yahoo Music. He is on the board of the Nawal Foundation and Save the View Now served as President and Board Chair of the NewFest Film Festival for 8 years.
Larry Burnett is a seasoned creative marketing and content strategist with 15 years of  experience. He's worked at both big brands (HBO, AOL MUSIC) and small startups, and expert at putting together the right tools and teams to produce amazing creative, on-time and within budget.
"Larry was a vital player in the transformation of dozens of College Board websites. After conducting a massive audit of 35K+ URLs, analyzing our content for usefulness and quality, he led the synthesis of 22 different AP Program-related sites into a single elevated experience. Working closely with subject matter experts, information architects, and interaction designers, he revised thousands of pages to improve their readability and findability. He is a strong and collegial collaborator who can play a wide variety of roles at any given time."
"I found Larry's company on the internet and liked what I saw. Our first few conversations turned into brain storming sessions, and I watched the project take form right before my eyes. Larry is an amazing resource and an ad expert, his services are tailored to provide the most optimal solution that's within any budget.  He's always available and delivers on schedule.  Not only am I satisfied, he'll definitely be the go to guy for all my future projects."
"I love working with Larry, and have recommended him on numerous occasions to others! I had the pleasure of hiring Larry as a long-term consultant for work at Verizon Communications, and Frontier Communications. His expertise in strategic messaging, project workflow, and content creation were invaluable. He is thorough, even-keeled, quick to adapt to change, and always on time with deliverables. His talents are top notch, and I look forward to working with him again soon!"
"I work for a Brooklyn-based manufacturer (Foot Care and First Aid, among other products) who distributes both nationally and internationally. Larry has been a huge asset to our creative efforts, helping us position our products against competitors, writing strategic copy for packaging, and developing some of our brand websites. He's been extremely thorough in giving us every possible solution to a problem. He is a conceptual thinker with a wide breadth of creative, cultural and technical experience that makes him an indispensable resource for a wide range of needs."
Let's Start Something Big

Say Hello!
Please fill out the following form indicating what industry you're in and what type of project you're inquiring about. We'll be sure to get back to you within a day.